Water resistant woods: this is what you should know
When looking for the most befitting stain for your outdoor (or indoor) wood project, several factors need to be considered. There are two main stain types according to their bases- oil-based stain & water-based stain; and in specific conditions, one is practically better than the other. Depending on the type of wood, any previous wood treatment & weather exposure, both these types of stains offer different levels of coverage & protection. Here are some properties of both the the stain types to guide your decision:
- The water-based stain is breathable, does not emit harmful fumes or odors, is not flammable, dries quickly, retains its color for a longer period of time, offers a richer hue of color, is extremely resistant to mildew and mold, and is easier to clean requiring only soap and water; while
- the oil-based stain needs more time to dry that allows for a more even finish, penetrates wood deeper, requires less for long-term maintenance, is extremely durable and offers a thicker seal for wood. 
The type of wood also plays a key role in deciding the right stain. For example, when coating a wood with natural resistance to rotting, it is better to use a water-based stain. Examples of this kind of wood are cypress, cedar & redwood. 
Similarly, previous wood treatment is a crucial factor to arrive upon the correct stain. If the wood to be stained bears a previous coating of stain/ paint, care should be taken to ensure a new, even protective layer. It may be difficult to ascertain the previous layer,  but knowing it will undoubtedly help in choosing the apt stain. If the previous layer is oil-based, opting for a water-based stain now is advisable as the latter will adhere better as compared to an oil-based one.   
The kind of weather the wood will be exposed to is also significant in determining the best stain-base. If the wood element is going to have a direct exposure to rain, wind & sunlight, an oil-based stain is the best option. This is because it is more durable than a water-based stain, and will impart a much better protective cover against these weather conditions.
Interior spaces like bathrooms & kitchens are also in constant contact with varying levels of high moisture, especially bathrooms. And so, staining the floors & other wooden surfaces becomes important in these spaces too. In this image, the stained pine floor looks natural even in the monochrome design.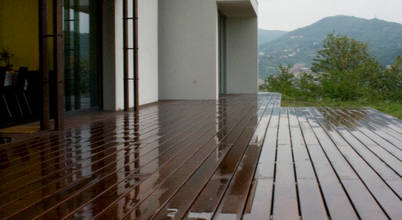 Water resistant woods: this is what you should know. Among other water resistant wood types are White oak and teak. These are also long lasting woods resistant to warping, decay, cracking, or twisting. These dense woods do not need a lot of maintenance and have a natural ability to repel rotting, moisture & insects. They are, therefore, popular choices for outdoor wood furniture.
Water Resistant Woods: This Is What You Should Know. Water resistant woods: this is what you should know. t Woods While all woods respond to water, some species last a little longer in wet and damp environments. Hardwoods in general have better water resiliency than softer woods like pine because the fibers are tightly packed together, resulting in less absorption, which does not mean all hardwoods are waterproof.
Video of Water resistant woods: this is what you should know
Water resistant woods: this is what you should know
ood Is Waterproof? Water-resistant Woods. While all woods respond to water, some species last a little longer in wet Waterproofing Stains and Sealers. A waterproof stain seals and colors wood to make it waterproof. Waterproofing Finishes. Another finishing product is a How Water Resistant Is Poplar Wood?. Treated Versus Untreated. Treated poplar wood is significantly more water resistant than is untreated wood. Treating the wood protects it not only from the elements, but from harmful wood-decaying organisms, according to the University of Minnesota. Untreated poplar heartwood lasts only for three to four years on average. 3 Easy & Water-resistant Finishes. Steve Mickley, woodmagazine.com's finishing forum moderator and owner of Hardwood Lumber & More in Milford, Ohio (hardwoodlumberandmore.com), says you can give your projects a fighting chance with one of these easy-to-apply, water-resistant finishes. What Is The Most Water Resistant Hardwood Flooring. The top layer has the highest quality wood. Engineered wood flooring is definitely more water resistant than solid hardwood flooring, but it still isn't number one when it comes to being the best water resistant hardwood flooring. Laminate Wood Flooring. This kind of flooring is very easy to install and also very easy to maintain. It also performs better in moisture tests than solid hardwood flooring. You can usually find laminate wood flooring for really affordable prices. Naturally Rot-Resistant Woods. Among exceptionally decay-resistant tropical woods are ipe, lignumvitae, purpleheart, and old-growth teak. Not quite as resistant as these, but still defined as resistant or very resistant, according to the FPL, are more common woods that are widely sold for outdoor use: various species of cedar, cypress, redwood, and white oak. The following two sections list domestic and tropical tree species whose wood is exceptionally resistant, resistant or very resistant, and moderately resistant.
Tags: Water Resistant Woods: This Is What You Should Know, Know
Water Resistant Woods: This Is What You Should Know
11 Best Images About Water Resistant Flooring On Pinterest
What Is Water Resistant Clothing? (with Pictures
Watch Water Resistance Guide
Plastic Exterior Wall Decorative Panel/fire Resistant Wood
What You Need To Know Before Buying New Furniture
Why You Will Definitely Want A Wood Stove
BEHR Premium 1 Gal. Protector And Waterproofer-98001
List Of Tables
Infección De Las Vías
CDC Threat Report: Yes, Agricultural Antibiotics Play A
Regional Office For Africa
22 White Wood Floor Ideas And How You Should Combine It
The Best Waterproof Laminate Flooring
Termites Attack Treated Pine Fencing
This Is Why You Should Never Drink A McDonald's Shamrock Shake
Wood Shower Mat: Give A Little Natural Accent To Your
DECK STAIN: Why Most People Mess Up Their Deck Big-Time
How To Pack The Perfect Beach Bag
Invicta Pro Diver Wood Watch
Tips For Using Water Based Varnish
1000+ Images About IPhone 5 Accessories On Pinterest
Choose The Best Garden Hose Reel: Everything You Should
If You Eat Tuna, You Should Know These Five Fish
CabinetCoat 1 Gal. White Trim And Cabinet Enamel-CC4510
Concrete Block Foundation Cost How To Lay Small Slab
Wpc Waterproof Plywood Door Design
Should You Choose Radiant Heating For Your Floor?
Mod Podge Outdoor: Everything You Need To Know!
Seal-Krete 1 Gal. Satin Clear Seal Concrete Protective
Why Should I Compost Food?
White Pine Varnish Advice
Treated Wood: Don't Take Short Cuts. Treat Your End Cuts
A World Without Work By Derek Thompson
Beautiful And Comfortable Boat Interior Designs To Make
Fire Extinguisher Signs
78 Best Images About Model Trains On Pinterest
Oversleeping: The Effects And Health Risks Of Sleeping Too
Choosing A Kitchen Worktop
8 Reasons Children Of The 1970s Should All Be Dead
22' Inflatable Water Slide With Pool Grey Blue
Got Hail Damage? Impact Resistant Shingles Can Reduce
30 Pet Safety Infographics That Could Save Your Pet
Best Anti Theft Crossbody Bag. Travelon Anti-Theft Cross
Vescovi Virginia Hydro Pellet-stove: Verde
Lancaster Table & Seating Spartan Series Metal Slat Back
12 Things You Should Know About Diamond Drill Bits
Just Another WordPress.com Site